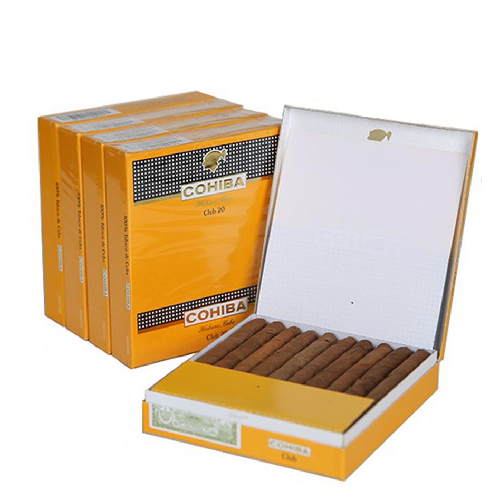 Cohiba Club 20
Machine rolled in Cuba. The leaves used for the tobacco are taken from the same plants which are harvested for world famous premium hand made Havana cigars. These plants are grown in the Vuelta Abajo region in Cuba, an area located west of the island, which is widely regarded as the finest tobacco growing land in the world.
PerOuter / 5 boxes
PerBox / 20 sticks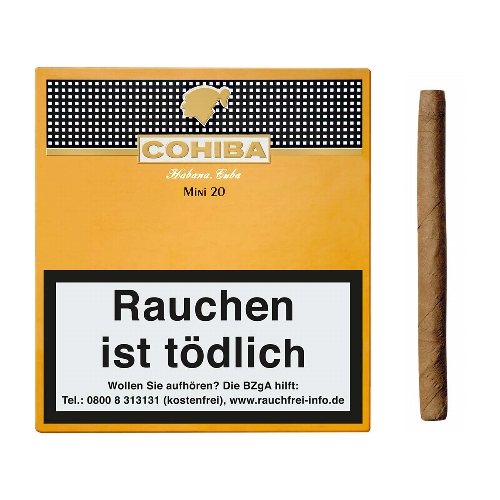 Cohiba Mini Cigarillos 20's
The Cohiba Mini is a complex and spicy light-to-medium cigarillo, 3.2" (82mm) long, of 20 ring gauge, and comes in 10 packs of 10 cigars. It is a machine-made cigarillo manufactured by ICT, under license of Habanos SA, like all cigarillos. They are using short-filler tobacco, which grows on plants also located in the Vuelta Abajo region in Cuba, where the Habanos originate from. The Cohiba Mini comes pre cut and with no bands. Mildly spicy, never overpowering. Real Cuban taste, complex mix of flavors: wood, leather, spices, sweetness. This cigarillo simply provides a very pleasant experience.
PerOuter / 5 boxes
PerBox / 20 sticks